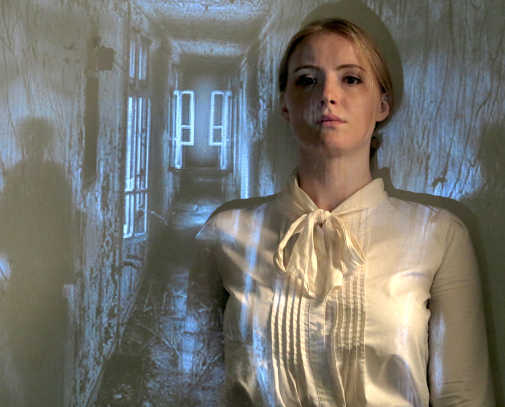 Kersti Bryan as Margit. Photo by Jonathan Slaff.
"Mr. Bengt's Wife" has been characterized as Strindberg's answer to Ibsen's "The Doll's House." It utilizes realism, expressionism, melodrama and dreamscape to tell the story of the rebellious Margit, whose quest to become an independent New Woman catapults her from a convent to a castle, where her husband and two lovers vie for her attention.
A new translation by Laurence Carr and Malin Tybahl was written to make this undiscovered masterpiece accessible to modern American audiences. It had never before been translated into English and had been performed only five times previously: in Stockholm in1882, Cologne in1908, Vienna in 1914 (the Austrian Church demanded that it close after two performances), Berlin in 1920 and most recently, in Stockholm in 1971. The Strindbergian theme of marriage as an emotional battleground is strongly stated in the play and there are absurdist elements foreshadowing such Strindbergian signature works as "The Dream Play."
The play was originally set during the Protestant Reformation in Sweden, when convents were closing and the church became Lutheran. Its lead character, a high-spirited orphan girl named Margit, is physically and emotionally abused in the convent that has taken her in. Rescued from the convent by a mounted nobleman named Mr. Bengt, she marries this hero expecting a life of fantasies. He idealizes her and disguises his financial perils not to trouble her. But the lie catches up to him; the marriage, like the convent before, begins to feel like a cage to Margit. After a short time together, Bengt is bankrupted by poor crops and the marriage falls apart. Margit applies to the King of Sweden for a divorce and receives one, legally, but is treated like a pariah for leaving her husband. She is visited repeatedly by two men: her confessor from the convent (who may symbolize her conscience) and an old childhood friend, now a bailiff, who comes to comfort and seduce her. The play's shocking resolution challenges the audience to wonder if the whole story was a dream. The play was a star vehicle for the author's wife, Siri Von Essen, when it debuted in Stockholm in 1882.
The actors were Kersti Bryan (as Margit), Eric Percival (as Mr. Bengt), Shawn Fagan (as the Bailiff), Matthew Hurley (as the Confessor), Victoria Blankenship (as Chief Judge's Wife and Abbess) and Samm Todd (as Metta and Witness). Set design was by Angelina Margolis. Lighting design was by Miriam Crowe. Costume design was by Aryeh Lappin.
Coinciding with the run of "Mr. Bengt's Wife," August Strindberg Rep presented free stage readings of three plays from Strindberg's great history cycle, translated by Wendy Weckwerth. (The cycle contains eight or twelve histories, depending on what you read; all were written between 1899 and 1902.)
Mon, Sept 16: "Erik XIV," directed by Linda S. Nelson
Mon, Sept. 23: "Gustav Adolf," directed by Whitney Aronson
Mon, Sept. 30: "Karl XII," directed by Ivette Dumeng (artistic director of Nylon Fusion Collective).
"When I learned of the August Strindberg Repertory Theater group, I trotted down to The Gene Frankel Theater (24 Bond St) with an enthusiasm not often generated these days. I was not let down. Mr. Bengt's Wife, in its American premiere (translated by Laurence Carr and Malin Tubal) treated me to an insightful view of the master in his early development." -- Melody Breyer-Grell, Huffington Post