PRODUCTION HISTORY
OF AUGUST STRINDBERG REP
Abu Casem's Slippers by August Strindberg
November 12 - December 3, 2016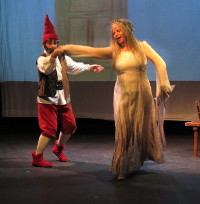 The Black Glove
Black Glove, The by August Strindberg
December 2 - 16, 2017
"August Strindberg's 'The Black Glove' Is a Cheerfully Morose Antidote to the Holiday Spirit" -- Village Voice, Dan Calllahan
"The production centers on the lost object of the title, which seems to confer the season's spirit on anyone who finds it. Its original owner, however, has none of that warmth. A mean-spirited, wealthy young mother, she thinks that her maid has stolen her ring, which is actually inside the missing glove. A tomte, similar to an elf, conspires with the Christmas Angel to teach the woman a lesson. Points are scored, but this being a holiday entertainment, she ends up more like Scrooge than like Miss Julie." -- NY Times, Events for Children in NYC This Week by Laurel Graeber
Burnt House
Burnt House by August Strindberg (produced with The Storm)
October 3 - 20, 2015
"Burnt House has its own haunting music and message [which is to] confront one's demons or run the risk of becoming a 'moth to a flame.' No weak links in this cast. . . all hold the stage and inhabit their characters with realism....August Strindberg Repertory Theatre is one of the best-kept secrets in New York...So keep your ear tuned to this company. They are making some mighty fine music with the Scandinavian master's late-career works." -- Diedre Donovan, Theaterscene.com
Casper's Fat Tuesday by August Strindberg (produced with The Stronger)
October 26 - November 2012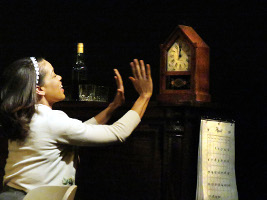 Easter
Creditors by August Strindberg
August 27 - September 4, 2018
Crimes and Crimes by August Strindberg
August 6 - 20, 2016
"Aronson has accomplished her goal. The play has witty moments and comic scenes. The absurdism makes for great melodramatic humor as well. The revision keeps the audience focused on its entertaining and engaging story for the entire duration." -- Yani Perez, Off-off Online
Easter by August Strindberg
March 8 - 31, 2013
"an admirable undertaking … These actors make you feel proud of small troupes dedicated to obscure plays." --Ken Jaworowski, New York Times

The Father by August Strindberg
November 15 to December 2, 2018 and August 25 to September 2, 2019
"Strindberg, a titan of modern theatre on par with Ibsen, is finally getting his due this side of the pond thanks to Robert Greer, the play's gifted director and translator. Greer has done an extraordinary service for American theatre, directing eleven Strindberg plays to date. I look forward to more." -- Joshus Crone, Reviews from Underground
Guilty
Guilty by August Strindberg
September 5 - 17, 2017
"This fine production of "Guilty," a United States premiere, was presented as part of TNC's 8th annual "Dream Up" Festival. I am sorry that it had such a limited run (for now?) and hope that it may be revived. If one wants to see foreign works in simple unpretentious but competent productions, such NYC venues as TNC or H.E.R.E or other off-off and further off places must be sought out and supported, as well as the artists and companies, together with directors (who read) and translators who ferret out unknown work; they all deserve our thanks and active support. That is the duty of a city and its citizens who pride themselves of being "the cultural center of the World" (no less!)." -- Beate Hein Bennett, New York Theatre Wire
Journey in Light and Shadow by Stig Dalager
March 4 - April 1, 2017
Kristina by August Strindberg
March 13 - 29, 2015
"With no fuss or frills, [director Whitney Gail] Aronson brings to life the vibrant personality of Kristina—and one can't help but feel this 16th century figure become palpable in the flesh and blood." -- Deirdra Donovan, Theater Scene
"Ivette Dumeng makes a wonderful Kristina..." -- Jean Sidden, Front Row Center
Marty's Shadow by Stig Dagerman
March 4 - April 1, 2017
#MeThree by Natalie Menna
November 9 to December 1, 2018


Miss Julie by August Strindberg
April 13 - May 11, 2014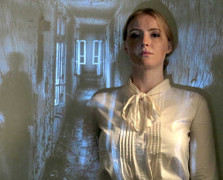 Mr. Bengt's Wife
Mr. Bengt's Wife by August Strindberg
September 13 - 29, 2013
Occasionally Nothing by Natalie Menna (Resident Playwright)
September 9 -16, 2018
Pariah by August Strindberg (produced with The Stronger)
November 12 - December 3, 2016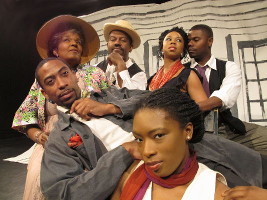 Playing With Fire
Playing with Fire by August Strindberg
May 18 - July 1, 2012 at New School for Drama (Off-off Broadway)
June 15-30, 2012 at Gene Frankel Theatre (Off Broadway)
"… the newly christened August Strindberg Repertory Theater has sprung to life with a dapper production of that Swedish master's obscure comedy "Playing With Fire." -- Eric Grode, New York Times
Nominated for three AUDELCO Awards: Outstanding Ensemble Performance, Best Revival of a Play and Best Costumes.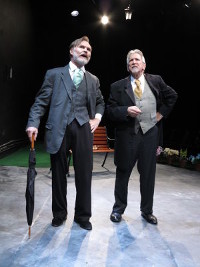 The Storm
Storm, The by August Strindberg (produced with Burnt House)
October 3 - 20, 2015
"The Storm - a window into Strindberg's hear and soul in his last years. . . certainly explores the venerable institution and offers some penetrating insights on its peculiarities and charm....August Strindberg Repertory Theatre is one of the best-kept secrets in New York....So keep your ear tuned to this company. They are making some mighty fine music with the Scandinavian master's late-career works." -- Diedre Donovan, Theaterscene.com
Stronger, The by August Strindberg (produced with Casper's Fat Tuesday)
October 26 - November 2012
Stronger, The by August Strindberg (produced with Pariah)
November 12 - December 3, 2016
To Damascus, a Trilogy, Part I by August Strindberg
October 21 - November 8, 2014
To Damascus, a Trilogy, Part II by August Strindberg
March 16 - April 2, 2016
---
WORKS BY OUR COMPANY
MOUNTED BY OTHER PRESENTERS
The Pelican & Isle of the Dead by August Strindberg, presented by Theater for the New City February 6 - 22, 2020
Strindberg returned from the Continent to Stockholm in 1906, where he lived out his last seven years. There he wrote "The Pelican" for his Intimate Theater in 1907 and "Isle of the Dead" (Toten-Insel) immediately after as a prologue. The latter was unpublished until 1918 and rediscovered in the early 60s, when it was found and promptly dismissed as an incomplete fragment. The two plays were finally reunited by Ingmar Bergman in a radio version in 2003. It was his last dramatic production. In this production, August Strindberg Rep brought the two plays to the stage together for the first time in history. It was also the world premiere of new English translations of both plays by Robert Greer, who helmed the production.
| | |
| --- | --- |
| | |
| In "Isle of the Dead," The Teacher (Gabe Bettio) reveals to The Dead (Brad Fryman) truths of his life by showing him "The Pelican." Behind: Jay William Thomas in "The Pelican." | In "The Pelican," Margaret, the maid (Mary Tierney) confronts the diabolical wife, Elise (Natalie Menna). |
Zen A.M.
Zen A.M. by Natalie Menna (resident playwright), presented by Theater for the New City
May 31 - June 16, 2019
"Our highest recommendation! Hilarious, moving, politically thought-provoking comedy of manners. An only-in-New-York satire centering on the failed plan to create an International Freedom Center Museum on the 9/11 site. Once again, Theater for the New City offers a work of utmost relevance and entertainment value, enacted by immensely talented actors, a brilliant director, and an outstanding creative team." -- NY Theatre Buyers Guide