"Creditors" by August Strindberg
Translated and directed by Robert Greer
Presented by Theater for the new City's Dream Up Festival
August 27 to December 4, 2018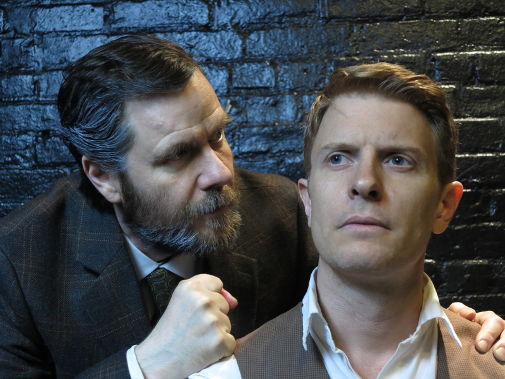 Robert Homeyer (L) and David Kubicka (R). Photo by Jonathan Slaff

This masterpiece from Strindberg's naturalist period is rarely excelled in its unity of construction, dramatic tension and acute psychological analysis, but it is far less performed and anthologized than "The Father" or "Miss Julie." During an afternoon in a lounge at a seaside resort, a revenge is played out as a credulous artist has his mind poisoned against his wife by her former husband. Translator Robert Greer directs.

The drama is set in a parlor and adjoining room of a seaside resort. Adolph, a painter-turned-sculptor, is falling under the spell of Gustav, an ill-natured older man whom he has just met. In the guise of friendly male conversation Gustav, Iago-like, makes Adolph dissect his love for his new wife Tekla. She is a novelist whose star is rising while Adolph's is falling. We learn that Tekla is Gustav's former wife and she has written a roman a clef about him, characterizing him as an idiot. In an act of revenge, the older man is manipulating the artist to believe that his wife has selfishly robbed him of his creative strength in an act of erotic vampirism. The men agree that Adolph will hide in the antechamber and eavesdrop while Gustav engages Tekla to demonstrate "how to handle a woman." Instead of confronting her, Gustav charms her into a farewell tryst. When Tekla awakens to the plot, it is too late--Adolph, listening at the keyhole, succumbs to an offstage attack of epilepsy. The play whirls with mind and power games and is a brilliant statement on the kinetics of conjugal dependency. But it is written in a tottering rhetoric which has led to a swollen and lofty tone in translations to-date. This has been a barrier to its popularity, and Robert Greer's translation aims to render the play into a more contemporary voice for the benefit of sophisticated New York audiences.

The play's Swedish title is "Fordringsagare," meaning claimant or pretendant. The translation of the title as "Creditors" is meant to indicate Tekla's supposed debt to each of her husbands while posing as a person of original gifts.

The play was written in 1889 a mere 72 hours after "Miss Julie" was banned by the censors in Copenhagen. Strindberg had a lease on a theater and suddenly no play to put in it, so he wrote a play for the cast he had assembled for "Miss Julie." "Creditors" approached the same kind of passions, but soft-pedaled the sexuality. Nevertheless, the play's erotic themes are perceptible through a variety of clues. Another Swedish word for debt, "skyld," also means sin; moreover, the notion of sexual debt tacitly permeates the entire dramatic situation. In late 19th century Sweden, it was customary for women to marry men 15-20 years older and it is assumed that Gustav, her first husband, has educated Tekla both sexually and intellectually. She, in turn, has similarly educated Adolph, her second husband, who happens to be her age. When Tekla had her affair with Adolph, whom she ultimately married, Gustav was humiliated. His students sniggered about the affair for seven years. The idea of the "ridiculous" (i.e. cuckolded) idiot character in Tekla's book actually was suggested by Adolph (who, ironically, meant no harm at the time). So when Gustav punishes Tekla and Adolph for ruining his reputation, he is bitterly redressing a psychic debt that is also sexual.

In Sweden, criticism generally holds "Creditors" to be a better play than "Miss Julie." It is performed in major productions year after year because it is such a fine vehicle for three stars.


The actors were Natalie Menna as Tekla, David Kubicka as Adolph and Robert Homeyer as Gustav. Lighting design wasby Gilbert Pearto. Costume design was by Janet Mervin. Sound design wasby Alex Santullo.

August Strindberg Rep had originally planned to present this version of "Creditors" in May, 2018 at Gene Frankel Theatre, 24 Bond Street. The production was postponed to enable an extension for the preceding show at Gene Frankel Theatre, Wheelhouse Theatre's production of "Happy Birthday Wanda June" by Kurt Vonnegut, Jr. The Dream Up Festival, dedicated to new works, had the honor of unveiling Mr. Greer's new translation of "Creditors" and of helping to make this classic experimental work more accessible to modern American audiences.