"Crimes and Crimes" by August Strindberg
Adapted and directed by Whitney Aronson
August 6 to 20, 2016 -- Gene Frankel Theatre, 24 Bond Street
Presented by August Strindberg Repertory Theatre in association with Theater Resources Unlimited.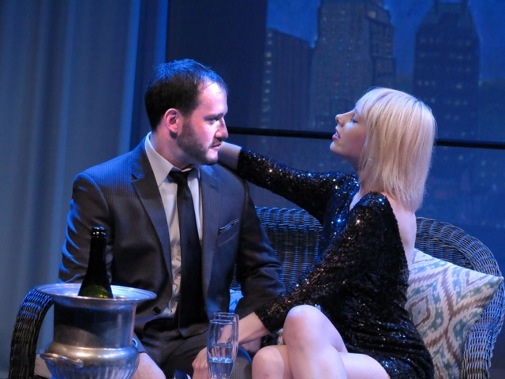 Randall Rodriguez and Christina Toth. Photo by Remy.
August Strindberg Rep emphasized the comedy in it remaking of Strindberg's "Crimes and Crimes," directed by Associate Artistic Director Whitney Aronson. The script was radically refashioned to bring out the humor that underlies a play that is mostly known as an impressionistic study of thought.
Strindberg's exotic lifestyle in 1890s Paris and Berlin, bastions of free love and feminism, brought him to the verge of a nervous breakdown and provided him the material for this brash comedy.
The play, "Brott och Brott" (There are Crimes and Crimes) recalls, but afar off, the style of Strindberg's middle period. It was first published in 1899 with "Advent" under the general title, "On a Higher Court." In these plays, Strindberg's theme of justice was caught up with his religious trend, which was already manifest in his 1892 play, "The Keys of the Kingdom of Heaven." Interestingly, Strindberg preferred the title "Intoxication." Its Parisian atmosphere, well-delineated secondary characters and subtle mixture of symbolism and realism add richness to the piece.
Strindberg's original "strange comedy" is set in a Paris of the mind, not the city of actuality. A playwright named Maurice, after years of struggle, is expecting success from a drama about to be produced. But on the evening of his victory, in a fit of wild passion, he abandons his mistress and her child to take up with the mistress of a friend. The child dies and he accuses his new mistress of committing murder, while he himself is looked upon by the law as the probable criminal. This new adaptation offered a new, lighter take on the story, modernizing the location and setting to contemporary New York and heightening the absurdity by making the human child a treasured champion show dog.
The dark humor of some of its scenes have traditionally justified labeling the play a comedy, but that was not enough for Director Whitney Aronson, who condensed play in order to release more of its comedic potential. Having changed the mistress' child into a show dog, she cast the animal with a woman in a dog suit. Since the pooch was supposed to be a Komondor -- a Hungarian sheepdog with a long, corded coat -- the costume was made of cotton string mops.
In the close of the original play, is it discovered that the child had died naturally, with the consequence that Maurice is relieved of the nightmare into which he had sunk. The drama then becomes a kind of impressionistic study of thought with an ironic conclusion, in which Maurice agrees to divide his life between prayer and acceptance of the worldly joys now restored to him. In Aronson's adaptation, the religious content was downplayed.
Interestingly, Aronson did not change the child to a dog for comic effect, but for believability. She wrote, "I actually did it because in the original, the child dies and nobody REALLY cares. Within hours of being exonerated, Maurice is happily choosing between going to church and attending his now successful play. I thought that the audience would not be able to forgive anyone in the play for so easily moving on from the death of a human child. A treasured animal's death, though tragic and upsetting, is more consistent with the general reaction and behavior that Strindberg's characters demonstrate."
Ivette Dumeng as the devoted wife, Kate Ostrowski as the dog.
Photo by Jonathan Slaff.
ADAPTED AND DIRECTED BY WHITNEY ARONSON
Executive Producer: Jessa-Raye Court
Producing Artistic Director: Robert Greer
Starring Randall Rodriguez*
with
John Cencio Burgos, Ivette Dumeng, Crystal Edn,* Katie Ostrowski, Alyssa Simon,* Christina Toth and Theodoric Wells

Stage Manager Becca Pickett*
Sets by Daniel Krause
Lighting by Jason Fok
Costumes by Matthew C. Hampton
Music and Sound by Andy Evan Cohen
Props by Christopher Kelley
Executive producer Adam Gale.
"Aronson has accomplished her goal. The play has witty moments and comic scenes. The absurdism makes for great melodramatic humor as well. The revision keeps the audience focused on its entertaining and engaging story for the entire duration." -- Yani Perez, Off-off Online
*=appeared courtesy of Actors Equity Assn.