"To Damascus, Part 1" by August Strindberg,
translated and directed by Robert Greer
April 18 to May 11, 2014 - Gene Frankel Theatre
Presented by August Strindberg Repertory Theatre in association with Theater Resources Unlimited.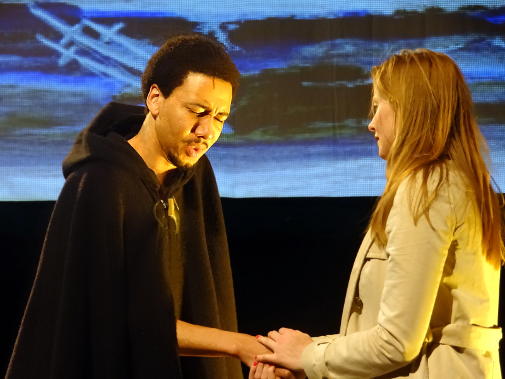 The Stranger (DeSean Stokes) and The Lady, his mistress (Kersti Bryan), are finally reunited after he has experienced a trial of his faith and sanity. Photo by Claire Taddei.
August Strindberg's "To Damascus, Part 1" was adapted to Harlem, 1962 and presented with a multi-racial cast from April 18 to May 11, 2014. The play is the first part of a trilogy (called "The Road to Damascus" in earlier translations) that has been described as "Strindberg's most complex plays" and as "his greatest plays," due to their synthesis of a wide variety of myths, symbols and ideas with a profound spiritual analysis in a new dramatic form. August Strindberg Rep subsequently presented Part 2 in March-April 2016.
"To Damascus" is Strindberg's most overtly autobiographical dramatic work and deals very directly with his attitude toward religion. It is a forerunner of theatrical expressionism and a true theatrical representation of a dream, foreshadowing styles to be seen later in Strindberg's "The Dream Play" (1902) and "The Ghost Sonata" (1907). The play traces the spiritual downfall and redemption of The Stranger, an author in mid-career. He has been living from hand-to-mouth, desperate for funds from his publisher, when he runs off with another man's wife. His conscience punishes him for this and other matters dating back to his childhood. Being penniless, The Stranger and his new mistress try to take refuge with her parents, who betray his trust, precipitating a nervous breakdown for him. He takes refuge in a monastery sanitarium where everyone resembles a person against whom he has sinned and they pronounce a curse on him. Subsequent scenes reverse the order of the first scenes, whisking him back to the beginning of his journey, with some semblance of peace being restored to his soul from the discoveries he had in the monastery. The entire play is presented from The Stranger's point of view. Rich in symbolism, it casts a unique spell on its audience who, like its protagonist, cannot tell reality from unreality while in its grasp.
Scholars agree that parts one and two of the trilogy were inspired by Strindberg's recovery in 1898 from a period of terror that was his life's most severe test of his sanity. The Lady, who leaves her husband for The Stranger in this play, is mostly based on the Austrian authoress Frida Uhl, who was Strindberg's second wife.
The setting of Harlem in 1962 was chosen for this adaptation of the play by director/translator Robert Greer and Nathan James, who holds the August Wilson playwright's fellowship this year and was a frequent actor in Strindberg Rep productions. It seemed appropriate to place this expressionist play into an era where, at least in Black neighborhoods, the pace of social change had accelerated nearly to the point of surrealism. Not only had the Civil rights era come to a boil during the early '60s, but the first inter-racial couples had begun to appear. A partner in one of these couples was the literary artist Amiri Baraka. His parallels to The Stranger, the hero of Strindberg's play, were poignant to James and Greer and influenced their vision for this character.
Other August Strindberg Rep productions had included Strindberg's autobiographical plays "Playing with Fire" and "Easter." It seemed fitting to cast many of the parts of "To Damascus, Part 1" with actors who have played corresponding parts in those plays. So DeSean Stokes (the Orphan in "Easter") played The Stranger. The fair, red-haired Kersti Bryan (who played the title character in August Strindberg Rep's last production, "Mr. Bengt's Wife") played The Lady, his mistress. Nathan James (the son in "Playing With Fire" and the guilt-ridden Ellis in "Easter") played The Beggar and the madman Caesar. Victor Arnez, a newcomer to the company, played The Doctor and The Confessor. Carol Carter (the Mother in "Easter") played His Sister and The Abbess. Victoria Blankenship (the Abbess and the Chief Judge's Wife in "Mr. Bengt's Wife") played the Lady's mother and newcomer Allen Kennedy played The Lady's Grandfather.
Set design was by Angelina Margolis and included a painted, full-width projection screen above the actors' heads with projection graphics by Donna Miskend. Lighting designer was Miriam Crowe. Costume designer was Kate DaRocha.
The "To Damascus" trilogy was written between 1889 and 1901. "To Damascus, Part 1" premiered at Dramaten, November 19th, 1900, with Strindberg's third wife, Harriet Bosse, as The Lady. It had its German premiere in Berlin on April 17, 1914, and toured to Vienna in May. Parts 2 and 3 had their world premieres in Munich on June 9 and 10, 1915. Part 1 had its first English-language production in London in 1937 and all three parts were performed at the Traverse in Edinburgh in April 1975 and again during the Edinburgh Festival that July (parts 2 and 3 were done together in one evening and apparently cut, as is often done in Sweden.) Part 1 had its New York premiere at Theatre East in 1961, again cut. The upcoming Strindberg Rep productions weer envisioned as the Trilogy's first complete performance in English and the first uncut performance since Munich in 1915, ninety-nine years before.
ADDED ATTRACTION
Coinciding with the run of "To Damascus, Part 1," August Strindberg Rep also presented an AEA Showcase of "The Deadly Dance," Fred Crecca's adaptation of Strindberg's "Dance of Death," for three Wednesdays only: April 23 and 30 and May 7. The all-Equity cast included Mary Keefe, Lou Vuolo and Dennis Davies.