"Marty's Shadow" by Stig Dagerman (Sweden)
English language premiere translated by Nancy Pick with Lo Dagerman and directed by Whitney Gail Aronson
March 4 to April 1, 2017 - Gene Frankel Theatre, 24 Bond Street
Presented by August Strindberg Repertory Theatre in association with Theater Resources Unlimited.
Presented in rotating repertory with "Journey in Light and Shadow" by Stig Dalager (Denmark),
translated and directed by Robert Greer, adapted by Natalie Menna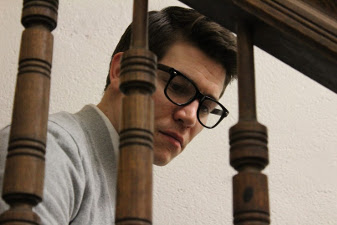 Jimi Stanton as Gabriel in "Marty's Shadow." Photo by Remy.S.
"Marty's Shadow" by Stig Dagerman is a Hitchcockian thriller set in Paris after the Second World War. A wealthy widow is consumed with grief for her beloved elder son, Marty (a slain war hero of the French Resistance), and resentment for her living son, Gabriel (a coward who did not fight). Gabriel desperately wishes to win his mother's respect and the love of the girl Marty left behind. So, when his mother brings a handsome decorated war hero into their home, the family is thrown into conflict, which culminates in the play's shocking denouement. Playwright Stig Dagerman had been sent on a commission to post-war Paris to write a book, but after meeting Etta Federn, an Austrian Jewish refugee, who made a living translating with her younger son, and whose elder son died fighting in the Resistance, Dagerman wrote this play instead. The actors were Ivette Dumeng, Jackie Maruschak*, James McKinney and Jimi Stanton*.
Ivette Dumeng, Jackie Maruschak and Jimi Stanton in "Marty's Shadow"
Stig Dagerman (1923-1954) was one of the most prominent Swedish authors writing in the aftermath of WWII, but his existential texts transcend time and place and continue to be widely published in Sweden and abroad. Between 1945 and 1949, he enjoyed phenomenal success with four novels, a collection of short stories, a book about postwar Germany, five plays, hundreds of poems and satirical verses, several essays of note and a large amount of journalism. He committed suicide in 1954, apparently from depression. Dagerman's works deal with universal problems of morality and conscience, of sexuality and social philosophy, of love, compassion and justice. Critics have compared him to Kafka, Faulkner and Camus. Many see him as the main representative of a group of Swedish writers called "Fyrtiotalisterna" ("the writers of the 1940s") who channeled existentialist feelings of fear, alienation and meaninglessness common in the wake of the horrors of World War II and the looming Cold War. He was husband of Anita Björk, who played Miss Julie in the film version that won the Palme d'Or (Golden Palm) at Cannes in 1951. "Marty's Shadow" (1948) has been produced in seven languages but never before in English.
Set design was by Jen Price-Fick and lighting design was by Jason Fok. Costume design was by Jessa-Raye Court. Sound design and original music was by Andy Evan Cohen. Nancy Pick was executive producer.
Nancy Pick and Lo Dagerman are co-authors of the book, "Skuggorna vi bär (A Story of Shadows: Stig Dagerman and the Monster Mother)." They began collaborating on the book after a chance meeting: Lo Dagerman was following the trail of her famous father Stig, the Swedish literary wunderkind while Nancy Pick was researching the lives of her radical cousin, Etta Federn, a Viennese-Jewish writer and anarchist, and her two sons. The back story of "Marty's Shadow" is now documented in their book. Dalager and Federn met in 1947 in Paris, where Federn, a refugee, was trying to survive as a palm-reader. She wanted help getting her books published. Stig Dalager, a journalist on assignment, was looking for a good story. Following their encounter, Dalager rushed home to Stockholm to write a play about Federn and her sons, titling it "Marty's Shadow." But the play did not have a happy ending. In fact, it was brutal and shocking: a mother murdered by her son. At the time of this production, the Swedish publication of the book was forthcoming from Norstedts Förlag.
*= appeared courtesy of Actors Equity