OCCASIONALLY NOTHING
a modern absurdist play by Natalie Menna, directed by Ivette Dumeng
September 8 to 16, 2018
Presented by Theater for the New City's Dream Up Festival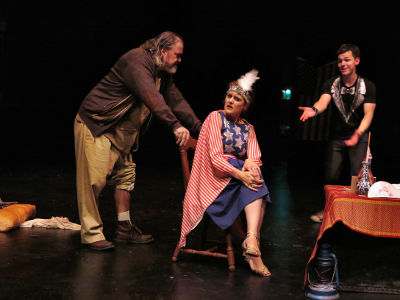 L-R: Brad Fryman, Maiken Wiese, Sean Hoagland. Photo by Jonathan Slaff.
From 2016 to 2017, "Occasionally Nothing" had grown from a one-act to a two-act and in the process of its development, won several awards in the Planet Connections Festivity. It was presented in final form by Theater for the New City's Dream Up Festival from September 8 to 16, 2018.
This play takes us to a dismal time-to-come when something can become a profound, obvious nothing and life becomes the time in between the sometimes which sometimes happen. The short two-act play is set in the foreseeable future, when the world is nearing its end. An older man, a young man and a woman, all British expats, are sheltering from nearby bomb blasts in a bleak room. They cope by taunting each other with warped games of verbal wordplay and by blurring each other's realities while losing touch with their own. The older man is the uncle of the younger man, who is a punk rocker. The woman, wife of the older man, is a former Rockette of Sephardic Jewish heritage. The trio's ordeal is meant to offer a bleak glimpse at life in the wake of a dystopian presidency, where wars will abound, words will have lost their meaning and people will have lost their way.
A one-act version of the play had won prizes for Outstanding Playwriting of a One-Act and Outstanding Overall Production of a One-Act at Planet Connections Festivity in 2016. The following year, Maiken Wiese was awarded Best Supporting Actress for her role in the two-act version.
With: Sean Hoagland (younger man), Maiken Wiese (wife), and Brad Fryman (older man).