"Abu Casem's Slippers," directed by Janet Bentley
November 12 to December 3, 2016 - Gene Frankel Theatre, 24 Bond Street
Presented by August Strindberg Repertory Theatre in association with Theater Resources Unlimited.
Performed in repertory with "Pariah and The Stronger"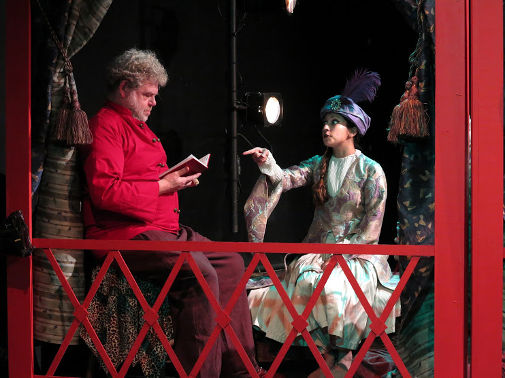 L-R: Oliver Conant, Jaya Tripathi. Photo by Jonathan Slaff.
Strindberg's full-length fairy play, "Abu Casem's Slippers," is a rendition of a famous tale of Arabian Nights that Strindberg meant "for children of all ages." Directed by Janet Bentley, this production was the world premiere of an exceptional verse translation by Anne-Charlotte Hanes Harvey. Robert Greer described Ms. Harvey as "the best translator of Swedish dramatic literature ever to have lived."
Strindberg wrote the play in uncounted iambs, a literary form that he claimed was used by Shakespeare "when he wearied of counting that tiresome pentameter on his fingers" and strayed into free verse. Dazzlingly, in her translation, Harvey captured Strindberg's meter in English. The play had a staged reading in 2003 at the August Strindberg Society of Los Angeles and had hitherto only been performed in German and Swedish.
The play is the story of a miserly merchant, Abu Casem, who is cured of avarice by hardships he must endure when his shoes are exchanged with the slippers of the Cadi. Strindberg enlarges the tale with a charming love story involving three young people: Abu Casem's daughter, who fears to love; a Prince who pines for her, and Casem's errand boy who is catalytic to many of the plot twists. The play centers on the moral of the Arabian Nights story: a happy outcome in which a miser, unlike Moliere's iconic one, is actually redeemed. The love story, which Strindberg added to the tale, has led to psychosexual interpretations of the piece that are among the most extreme examples of biographical criticism of the author.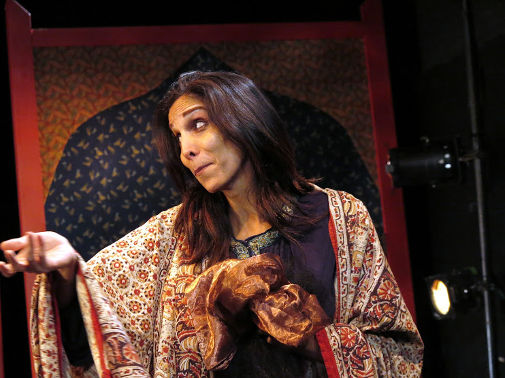 Pooya Mohseni as The Nurse. Photo by Jonathan Slaff.
"Abu Casem's Slippers" was written in 1908, during the first flush of Strindberg's love for the young actress Fanny Falkner. It has been seen as the work of an adorer with a new faith in love, but with his old reservations about sexuality still intact. A mischievous monkey in the play is claimed to symbolize the sexual urge, which obstinately reappears despite repeated attempts to get rid of him. Despite these Freudian interpretations, the play is quite suitable for children.
Since the stories of Arabian Nights came from India to Persia, Director Janet. Bentley resolved to cast the play with middle easterners as much as possible. The actors were Mary Tierney, Kevin Vavasseur, Oliver Conant, Pooya Mohseni, Jaya Tripathi, Marcos Sotomayor, John Cencio Burgos and Laksh Midha.
Set design was by You-Shin Chen, costume design was by Jessa-Raye Court, lighting design was by Gilbert Pearto and original music was by Andy Evan Cohen.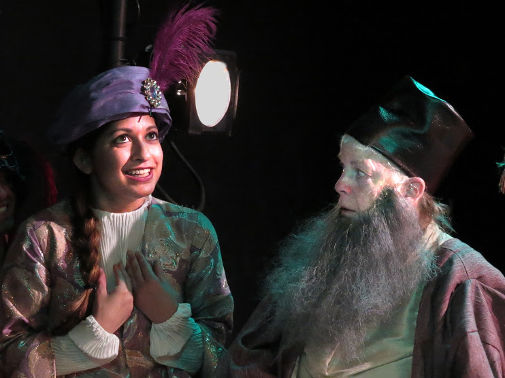 L-R: Jaya Tripathi, Mary Tierney. Photo by Jonathan Slaff.
"Anne-Charlotte Hanes Harvey's modern translation is delightful...What a joy has been brought to us from Baghdad via Stockholm. You-Shin Chen's sets pitch us headlong onto the banks of the Tigris, into a fabulous forest, and into pleasurable places where fountains can be found. Jessa-Raye Court's costumes are a sumptuous rainbow of tall hats, crazy kaftans and delightful monkey faces. I should also mention the beards which female cast members wear so well that my seven year-old daughter was fooled. Like a lucky drachma, you will find Lucky Pearto's lighting and rejoice. Andy Evan Cohen brings dumbek, oud and other trancey instruments together to create one heck of a hammam soundtrack. Janet Bentley keeps this pageant moving as fast as the arrow of love flies and the monkey dances, which is to say very nicely indeed." ---- Ed Malin, Theater in the Now