Casper's Fat Tuesday by August Strindberg
English language premiere - translated by Jonathan Howard - directed by Robert Greer
Presented by August Strindberg Repertory Theatre and Pink Pig Ballet
in association with Theater Resources Unlimited.
October 26 to November 17, 2012 - Gene Frankel Theatre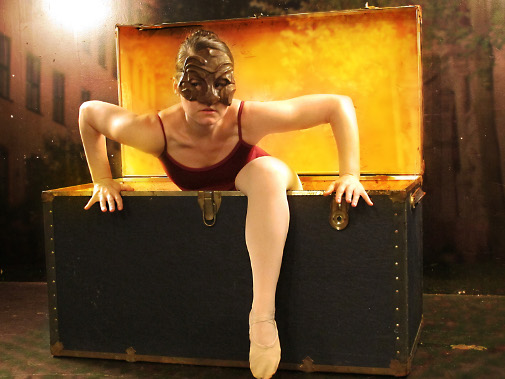 Crystal Meyer plays a puppet rising out of a trunk in a churchyard gateway in "Casper's Fat Tuesday." Photo by Joseph Urick.
"Casper's Fat Tuesday" ("Kaspers Fet-Tisdag") is a proto-absurdist work that was originally written as a puppet show. Penned in 1900, it was first performed in 1901 and published posthumously in 1916. No English translation has ever been published. In the 1950's, Ingmar Bergman directed a Swedish student performance. A musical version, composed by Hilding Rosenberg, was broadcast in Sweden in 1954. In 1964, a German version was produced in Korbach. This translation, unpublished, is a recent one by Jonathan Howard (England), which uses an idiom that was current in Britain during the 1800s.
The title refers to Shrove Tuesday or Fet-Tisdag in Swedish, which is the last day before the 40-day fast of Lent. In some countries, this is a Carnival Day. The play is set in the churchyard of the German Church of Saint Gertrude in Stockholm and takes the form of a traditional Punch-and-Judy show. A manager and his wife uncrate an ensemble of puppets including Casper (the Northern European name for Punch), his wife Judy, their two sons, a Mexican man, an Officer, a Creditor, a Tempter and Death. The manager abuses his wife and the puppets gleefully abuse each other, torturing the Tempter and evading the Officer, all the time being wary of Death. There is apparent satire on a swirl of subjects, including dialogue with the Mexican man on political issues (with oblique references to Zapata's struggle for a more democratic regime). There are also references to the telephone, which was a racy new technology in Sweden before it was widely adopted in the States. Dialogues occasionally break into German, a language that all educated Swedes were familiar with in 1900. The play made little sense to critics of its age, who overlooked its simple practical philosophy, judging it rough and frivolous. The play actually offers three basic life lessons: (1) There are more tears in answered prayers than unanswered prayers. (2) You can't win for losing. (3) As long as you treat all people badly, nobody has any reason to complain. Director Robert Greer said, "I want the audience to laugh their heads off and go out wondering about these things."
The playscript contained the play as translated by Jonathan Howard from the Swedish national edition of Strindberg's collected work, but extensive sections were added from a missing scene of Strindberg's play, "Midsummer" (1901), which was also translated by Howard. Written a few months before "Kaspers Fet-Tisdag," "Midsummer" is a six-scene play that is cinematic in structure, anticipating a movement to come much later in the century. Its penultimate (abandoned) scene was a Punch-and-Judy show set in the park Djurgården, which is just outside downtown Stockholm. It contains the same characters as "Casper," but with different words and actions. The two plays were be merged in this production for a fuller, fatter "Casper."
"Midsummer" was written for its Punch-and-Judy characters to be played by traditional puppets and "Kaspers Fet-Tisdag" was written for them to be played by actors. This production adapts the combined script as a sort of Commedia dell'Arte. The puppet characters will be played by ballerinas in commedia masks. Actual slap sticks were be used when blows were exchanged. The piece was a co-production of August Strindberg Rep with The Pink Pig Ballet, whose dancers performed the puppets. A ballet was created for the dancers by Miro Magloire, who is Artistic Director of the New Chamber Ballet (www.newchamberballet.com) and the Strindberg Rep's balletmaster. In keeping with the absurdism of the play, it was danced after the play's first bows.
The cast included Kate Bishop, Preston Bradley, Valerie Mae Browne, Natalia Lepore Hagan, Selena Hepburn, Crystal Meyer, Dina Rosenmeier, Joanna Sienkiewicz, Natlaia Sheptalova and Moriah McAda-Smith.
The piece was performed in a double-bill with "The Stronger" (1890), acted by Dina Rosenmeier and Albert Bendix.The translation was set in a Williamsburg, Brooklyn, cafe on Christmas Eve, 2011.

This was the second production of August Strindberg Rep. Both plays were designed by Angelina Margolis with lighting by Miriam Crowe, who had been the design team of the previous season's season's "Playing With Fire." The commedia masks in "Casper's Fat Tuesday" were designed by Peter Hodges.