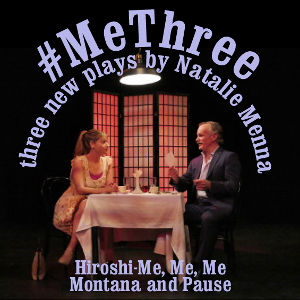 Hannah Beck and James B. Kennedy in "Pause," one of three playlets in "MeThree." Photo by Jonathan Slaff.
"#MeThree" by Natalie Menna was presented by August Strindberg Rep at Gene Frankel Theatre from from November 15 to December 2, 2018 in a double-bill with Strindberg's "The Father." While "The Father" (1887) offers a proto-Freudian explanation of the unreasonable hatred that can exist between husbands and wives, "#MeThree" invokes a much more humanistic interpretation of the battle of the sexes.
As its title suggests,"#MeThree" is comprised of three playlets.
"Hiroshi-Me, Me, Me" is about the aftermath of a short-lived affair between a desperate woman and a man who has dumped her. In a 30 minute comedy, it's clear that her self-absorbed delusions have sent both her boyfriend and her best female friend running for the door. Janet Bentley directed; the actors were Ivette Dumeng, Daniel Lugo* and Mary Charlotte Baynard.
Narcissism switches genders in the ensuing play, "Montana," in which an unprincipled and flamboyant male star is interviewed at the Academy Awards by an opportunistic and vapid female network correspondent. This comedy shows how it's not surprising that someone's pathological egoism and self-centeredness can distort reality, it's only surprising that the rest of us tolerate it. The play was directed by Charles Casano and acted by Regina Gibson* and Sean Leigh Phillips*.
The final play, "Pause," is a Pinteresque play about the suspicion of infidelity in a middle-aged man and his younger wife who say as much in their pauses as they do in their dialogue. It is not a play of overt cruelty, but it reveals an older husband using the authority of his age to behave oppressively toward his wife. The piece was directed by Ivette Dumeng and acted by Hannah Beck* and James B. Kennedy*.
| | | |
| --- | --- | --- |
| | | |
| Daniel Lugo and Ivette Dumeng in "Hiroshi-Me, Me, Me" | Regina Gibson and Sean Leigh Phillips in "Montana" | Ivette Dumeng and Mary Charlotte Baynard in "Hiroshi-Me, Me, Me" |
* = Member Actors Equity