MISS JULIE
October 21 to November 8, 2014 - Gene Frankel Theatre, 24 Bond Street
Presented by August Strindberg Repertory Theatre
in association with Theater Resources Unlimited.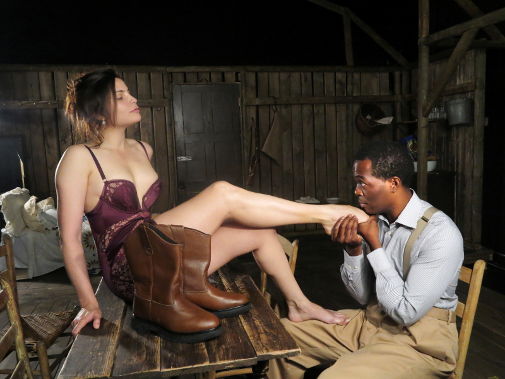 Ivette Dumeng as Julie, Reginald L. Wilson as her father's butler. Photo by Jonathan Slaff.
Strindberg's "Miss Julie" was transported to an antebellum Louisiana plantation in a new interpretation conceived by Artistic Director Robert Greer and adapted by Edgar Chisholm from a translation by Greer. The production included a ballet sequence, which Strindberg specified in the original manuscript and which has never been performed before. The piece was directed by Robert Greer and choreographed by Ja' Malik.
"Miss Julie" is the actress's "Hamlet." It centers on the proud, neurotic child of a degenerate aristocracy who is willing to sink her pride in a frenzied attempt to satisfy her love of sensation. Strindberg originally set the play in a Swedish manor house in 1888. This production moves the location to an antebellum Louisiana plantation in the same year. Julie, the landowner's daughter, has just broken off her engagement. It's Mardi Gras; she and the master's black butler, John (named Jean in the original), dance and drink at her insistence. Hearing the roughneck field hands coming, they hide in John's room while these rowdies vandalize the house in a ballet sequence. Leaving the room, it is revealed that Julie and John have had sex. The pair plan to flee for New Orleans, to take a steamer to Jamaica and open a hotel there. She steals her father's cash box to pay for the trip, but their plan is thwarted when John's fiancee, Christine (the cook), announces that she, enroute to church, will tell the stable boy not to let any horses out until the Master is back. The stakes of being discovered would be even higher for John in the antebellum South than for Jean in the Swedish original. Unable to face the certain scandal, Julie slits her own throat.
The play was acted by Ivette Dumeng (Julie), Reginald L. Wilson (John) and Eboni Flowers (Christine).
Strindberg wrote the play in 1888 for his first wife, Siri von Essen (making her a noblewoman playing a noblewoman). It is generally agreed that the play's suicide scene was inspired by the death of Swedish author Victoria Benedictsson, an early feminist who was also a model for Ibsen's Hedda Gabler. She was one of the greatest proponents of the Swedish realist writing style and had an unhappy love affair with the Danish critic and scholar Georg Brandes, which has often been blamed for her subsequent suicide. Strindberg wrote a ballet sequence into the script to illustrate the wedding party of roughnecks breaking into the mansion, but it has actually never before been performed that way. The playwright was probably inspired by ballets which were interjected between acts 3 and 4 in operas of his period. This production contained a ballet choreographed by Malik and danced by Allison MacDonald and Joshua LaMar.
Lighting design was by Miriam Crowe, costume design was by Marisa Ferrara, graphics were by Donna Miskend and sound design was by Andy Evan Cohen.