"Pariah" by August Strindberg
November 12 to December 3, 2016 - Gene Frankel Theatre, 24 Bond Street
Presented by August Strindberg Repertory Theatre in association with Theater Resources Unlimited.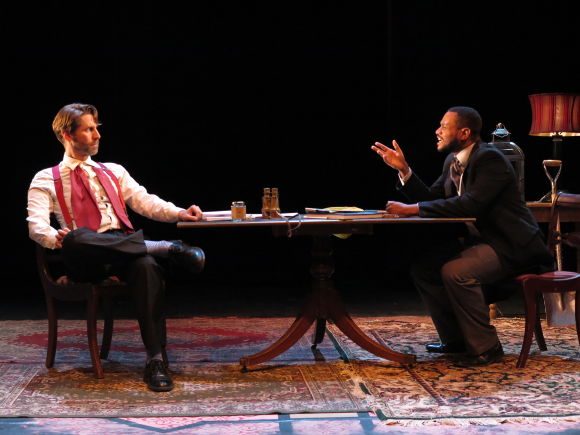 PARIAH -- -Michael Bernstein (L) as Mr. Y; Jarde Jacobs (R) as Mr. X. Photo by Jonathan Slaff.


"Pariah" and "The Stronger" were presented as a double-bill directed by Robert Greer. The evening showcased two of Strindberg's most compelling one-acts of suspicion and discovery. This double-bill played in alternating rep with with Strindberg's Arabian Nights play, "Abu Casem's Slippers."

"Pariah" (1888) is a blackmail scenario between an Swedish archaeologist (Mr. X) and an American entomologist (Mr. Y). In a dark room with a thunderstorm brewing, the Mr. Y attempts to blackmail Mr. X over an accidental killing he had committed years ago, only to have the tables turned in a diabolical battle of wits. The play presages the intellectual chess games of 20th century detective stories and crime novels.

"The Stronger" (also 1889) is a well-known, spellbinding short drama for two actresses, one of whom speaks (Mrs. X), the other doesn't (Ms. Y). The former concludes over the course of a half hour that the latter is her husband's lover.

"Pariah" is seldom done is English. It was adapted by the cast from the original 1913 translation by Edwin Björkman. "The Stronger" was newly translated and adapted by Robert Greer. Explaining the concept of the evening, Greer said, "Both plays have a crime novel element--somebody has a nasty, naughty secret. I couldn't resist pairing them." He cast both plays with a Caucasian actor and an African-American actor. "Pariah" featured Jarde Jacobs as Mr. X and Michael Bernstein as Mr. Y. The adaptation was played in the year of its writing, 1888, but the setting of rural Sweden was changed to the hills of Northern California with Mr. Y, the archeologist, re-imagined as one of the first Black Americans to achieve a doctoral degree.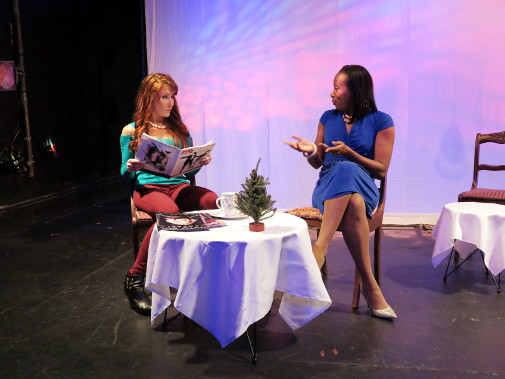 THE STRONGER -- L-R: Amber Crawford, Chudney Sykes. Photo by Jonathan Slaff.
"The Stronger" was newly translated by Robert Greer and cast with African-American actress Chudney Sykes and red-headed actress Amber Crawford, who exchanged roles night-by-night. The play was re-set into contemporary Hollywood. In one performance, Sunday, November 13, Jarde Jacobs performed the non-speaking Ms. Y as Mr. Y. Robert Greer's translation of "The Stronger" was dedicated to Viveca Lindfors, who performed the play's American premiere on a double bill with Strindberg's "Miss Julie" at the Phoenix Theatre in 1956.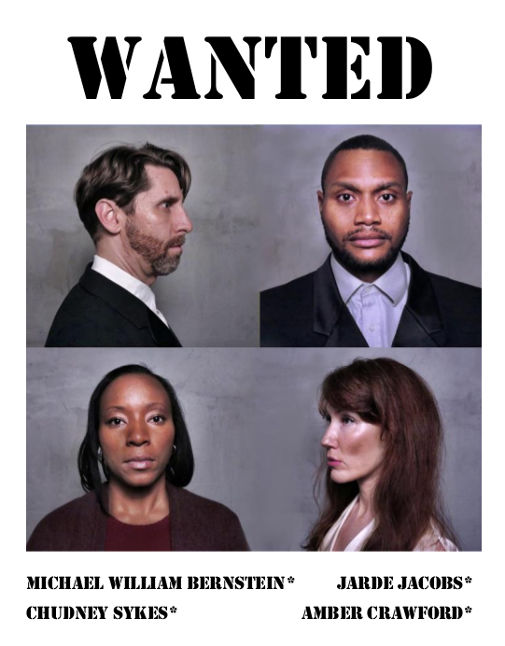 From program of "Pariah" and"The Stronger." Photos by Jonathan Slaff.