"The Stronger" by August Strindberg,
translated and directed by Robert Greer
Presented in a double-bill with "Casper's Fat Tuesday," translated by Jonathan Howard, directed by Robert Greer.
October 26 to November 17, 2012 - Gene Frankel Theatre, 24 Bond Street
Presented by August Strindberg Repertory Theatre and Pink Pig Ballet
in association with Theater Resources Unlimited.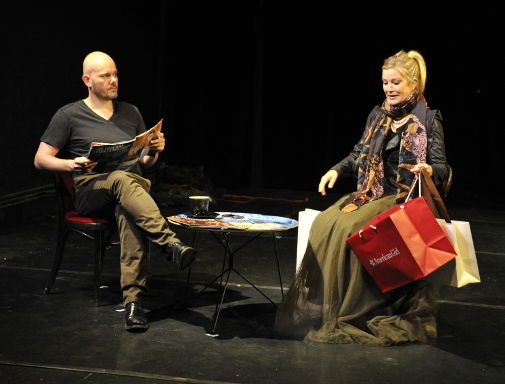 Albert Bendix and Dina Rosenmeier. Photo by Lee Wexler/Images for Innovation.
August Strindberg Repertory Theatre presented an innovative double-bill of Strindberg's plays, pairing "The Stronger," translated by Robert Greer, with "Casper's Fat Tuesday," translated by Jonathan Howard. The evening was a "sweet and sour" pairing of one undiscovered play and a novel adaptation of a more familiar one. Both translations were world premieres and directed by Robert Greer. This double-bill was the second production of August Strindberg Repertory Theatre.
"The Stronger" (1890) is a spellbinding short drama for two actresses, one of whom never speaks. The former, Mrs. X, concludes over the course of three-quarters of and hour that the latter, Ms. Y, is her husband's lover. With consummate skill, Strindberg succeeds in focusing attention more on the character who does not speak. In this production, the listener will be performed by a man. The production introduced a new translation by Robert Greer, who directed the play in 1998 at the Strindberg Festival in Stockholm with Viveca Lindfors performing Mrs. X in both English and Swedish. In the English rendition, Mrs. X spoke to a woman but in the Swedish rendition, her listener was played by a man, provoking an unanticipated angry response among the normally liberal-minded Swedish audience. Greer's translation was dedicated to Ms. Lindfors.
Greer set his translation in a Williamsburg, Brooklyn, cafe on Christmas Eve, 2011. Mrs. X was played by Dina Rosenmeier. The male character (named Emil in this adaptation) was played by Albert Bendix.